Throughout our trips to the Four Corners area, we've arrange the itinerary to include as many trading posts as possible. Through the years, some trading posts have closed and some have been reborn (an example of the latter is the Toadlena Trading Post).  Some trading posts are now mostly convenience stores where there are no other places nearby to stop for staples such as bread and milk (such as the Hatch Trading Post, on the way to Hovenweep National Park).
Still other posts are more accurately described as galleries, like Twin Rocks Trading Post in Bluff, Utah. (See Collecting Indian Arts: Phase Two, The Hunt).
And then there are those trading posts, like the one in Teec Nos Pos, that still serve as a meeting place, post office, food store, and a place to trade jewelry, pottery, and weavings.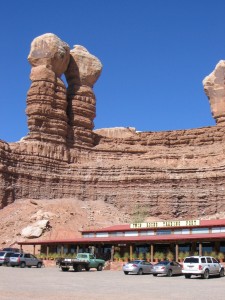 ---
Leave a Reply